GfE offers six different coating methods: from arc to wire and powder flame spraying and the high velocity flame spraying developed from it, to plasma and cold gas spraying. At the Saxony plant in Brand-Erbisdorf near Freiberg, coatings made from oxide ceramic, hard metal carbide, and metal alloys are applied using these methods for a number of industries.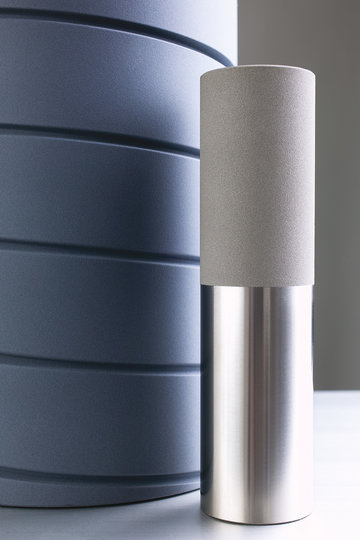 Functional layers
The coated products then meet a wide variety of requirements: they can be invulnerable to chemicals, electrically insulated, or resistant to heat and corrosion. Advantage: Using the thermal procedure – a combination of high temperature and high speeds during application – the coating is bonded to the base surface so tightly that neither adhesives nor bonding agents are required. Temperatures of up to 20,000 °C and speeds of over 600 m/s are reached during work.
Made from powder or wire
GfE has been a pioneer in thermal spraying since the 1980's. In this process, the coating material, in the form of a powder or wire, is fused in a pistol with the use of an energy source and simultaneously accelerated. When it hits the workpiece to be coated, the coating material bonds with the base surface and forms a dense, solid top surface. What could only be applied by hand-operated spray guns a hundred years ago is now done by spray robots. Because: Requirements for precision and quality, as are needed in the automotive industry, for example, can only be achieved by automated means. The Saxony GfE facility has been DIN ISO 9001 certified since 1995.
In addition to intensive consulting, short delivery times, and outstanding quality, we offer our customers one thing above all: custom solutions tailored to them.
Predominantly local customers
Our biggest customers are the automotive industry, as well as machine and plant manufacturers – from the printing industry to pump, laser, and textile machinery manufacturers, to producers from the refractory industry. Customers mainly come from Germany or neighbors in Europe; however, there are a few non-European customers in the mix.
Wide-ranging portfolio
GfE meets challenges and requirements from a number of industries – thus coatings with GfE materials for the construction industry and refractory industry are wear-resistant to gypsum, concrete, and ceramic molding compounds; for electromobility, power plants, and electronics, components are ideally coated to be insulated against heat and electrical voltage, and shaft couplings for ship propulsion function safely thanks to coatings that increase friction coefficients. The customers vary as widely as the range of parts to which production can respond flexibly and reliably, thanks to numerous methods and their competence in machine building technology and knowledge of tools. Efficient production planning and independent sales coordination ensure consistently high security of supply.
Proven in application - new developments
GfE has extensive application experience in classical areas of application as well as preliminary and subsequent processing of customer parts, and the development of new technologies, such as for special requirements. Example: If a customer partially or completely redevelops and redesigns machines and components, functional coatings should be incorporated from the beginning. Information and developments are needed on both sides. GfE works with the customer to plan out series of tests and exact procedures. In this process, investments in developmental technology are just as much as matter of course for GfE as dealing with the customer in a professional manner based on partnership.
Together, our team will find a solution for highly specific queries.
Thinking towards the future
Innovative thinking is extremely important to GfE – in all directions and in all areas. This could be tapping into new fields of application for thermal spraying, such as electromobility, for example. There are new ways of organizing production and new forms of overall technology – higher series volumes inevitably lead to high levels of automation with completely new requirements for plant engineering. But increasingly, there are also new properties of coatings due to combination and integration into multilayer systems, precision processing with lasers, etc., and new spray burners that can process suspensions. New requirements demand future-oriented thinking and incorporation into new technologies.
For GfE, the formula for success is simple: Expertise collected over the years combined with technical achievements result in long-term results – plus satisfied customers.