University / school students
A good start in your working life
The intern stands at the new powder atomization system and monitors the production process. As a new university student majoring in aerospace technology, she, like many others, must complete a twelve-week pre-study internship. She chose GfE.
Trial internship, pre-study internship, dual course of study, working student, or holiday job – at GfE, there are lots of options for effectively combining theory and practice.
School students
Are you looking for good opportunities for your future and would like to get a taste of a profession? You can gain your first impressions of the working world in a student internship at GfE and get a look behind the scenes of an industrial company. Your internship can be in the industrial, commercial, or technical area.
Whether a voluntary trial internship or a training internship – at GfE, you will gain a lot of experience and get to know our working world.
An internship with us offers you the best opportunity to find out if your chosen job fits you. And if you impress us, you will be a big step closer to your training with us.
Out of the lecture hall – into practice
Are you currently finishing a degree with a scientific, technical, or commercial orientation and would like to get a taste of real practice? An internship at GfE gives you the opportunity to gain practical experience outside of the theory-heavy routine of your studies. From the beginning, you will be integrated into our work structures, perform a variety of tasks in our project teams, and master exciting challenges.
Internships are possible beginning with the third semester and last two to six months. We will determine the exact time period individually with you. As an intern, you will receive appropriate payment at GfE.
As a working student at GfE
How would you like to enrich your theoretical study with practical work experience and at the same time gain insight into the working world? Support our departments in interesting projects, get to know our processes, and get a feeling for possible career fields. We offer assignments in technical, economic, and scientific areas.
If you are open to new things, have team spirit, know how to use MS Office, and have good English skills, apply with us as a working student. Use the opportunity to gain valuable experience in an international company!
Many people who start with us as interns or working students return later as employees.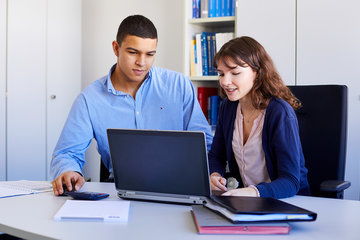 DUAL STUDY
Studying after graduating from high school and gaining practical experience at the same time? That's possible at GfE. In a dual study program, you will not only learn the technical basics for your future profession, but will also receive practical training at the same time. GfE employees will support you with their many years of professional experience and their expertise during your practical phases as well as during your final thesis.
Thesis project
As part of a thesis project, we offer you the opportunity to get to know our company better with an exciting topic and at the same time to broaden your knowledge from your studies. You have the opportunity to bring your ideas directly into our company and develop them. At GfE, you will receive skilled support for your bachelor's or master's thesis. A practical thesis project is an excellent entry opportunity for a career with us!
It is not mandatory to have completed an internship with us for thesis projects. However, that can be an advantage. Internships frequently prove to be fertile ground for topics and ideas for thesis projects, which can be further developed with the departments.
A monthly compensation for expenses for your thesis project is a matter of course for us.
Working during the holidays
A holiday occupation at GfE is more than a holiday job. We offer school and university students the opportunity to get to know an innovative company and earn good money doing it.
Get to know the working world, work in the team, and maybe discover new professional priorities for your future. Support our departments in a variety of tasks.
Exchange with SOS Children's Village
For many years, GfE has cooperated with the vocational training center of the SOS Children's Village in Nuremberg. As part of their education, the trainees of the SOS Children's Village can obtain insight into our company and gain practical experience. On the other hand, the GfE trainees benefit from the broad range offered in the training workshop of the SOS vocational training center – a valuable partnership.
As a cooperation partner of the SOS Children's Village, we offer young people the opportunity to qualify for job training.
In order to make reading easier, we limit ourselves to masculine forms. Naturally, women and non-binary persons are equally welcome.
Brand-Erbisdorf
Antje Lippmann
Human Resources
Phone: +49 (0)37322 472 - 203 zukunft@gfe.com