Metal powders are used in powder metallurgy for manufacturing a wide variety of materials and components. We have decades of experience in manufacturing this special powder.
Spherical powder for additive manufacturing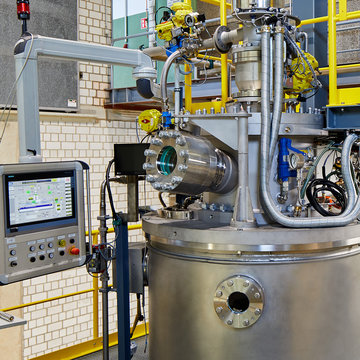 Spherical powder made from Ti and TiAl alloys is required for the production of complex components using additive manufacturing (3D printing).
Along with very good pourability, the particle size distribution of the powder is already adjusted during EIGA (electrode induction gas atomization) to the requirements of the different powder-based AM processes via EBM (electron beam melting) or SLM (selective laser melting) as well as for metal injection molding. Taking place completely under inert Ar gas, the manufacturing process, from atomization to sieving to packaging, guarantees the highest possible purity of the powder, especially with regard to the resulting oxygen and nitrogen content. Thanks to these properties, our metal powder can be used for complex applications in a variety of industries, such as aviation or automotive technology.
Titanium powder for medical technology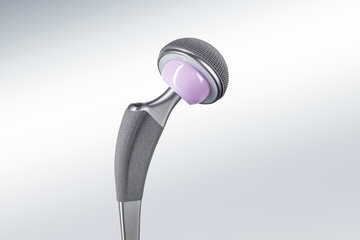 © B. Braun Melsungen AG
Titanium has proven to be biocompatible and suitably modifiable as a material and is therefore extremely well-suited for application in the medical sector, such as for the manufacture of porous surfaces in human implants.
Our products …
HDH titanium powder
Thanks to optimal process control in the coating technology, defined coating properties, such as adhesive strength, roughness, porosity, and stability can be achieved even in the outermost coating particles.
… for your thermal spray coatings on
human implants for cementless implantation technology (especially hip, knee, dental, and spinal implants
Properties of our products
defined grain morphology for high coating reproducibility
high purity and biocompatibility
irregular, blocky grain shape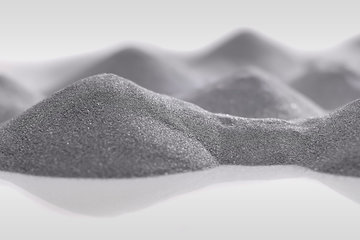 Chromium metal powder is used, among other things, for the manufacture of electric switch contacts for vacuum switching devices. Switch contacts like these are exposed to extreme demands and loads and must ensure the switching of high currents and voltages in power plants or substations. The composition of our chromium metal powder was developed especially for this application.
Metal powder for welding electrodes
High quality GfE powders, such as ferro vanadium (FeV) and niobium chromium (NbCr), are used for the production of welding electrodes, for example, which are in turn used for the manufacturing of high quality welds.
YOUR CONTACT 
Titanium powder for medical technology
Dr. Jürgen Köhler
Director of International Sales Business Unit Coating Materials Wear & Decoratives
Phone: +49 (0)911 9315 - 458 juergen.koehler@gfe.com
Chromium metal powder | Metal powder for welding electrodes
Peter Kottusch
Director of International Sales Business Unit Alloys
Phone: +49 (0)911 9315 - 299 peter.kottusch@gfe.com
Spherical powder made from Ti and TiAl alloys
Markus Löhr
Director Business Unit Titanium Aluminides
Phone: +49 (0)911 9315 - 476 markus.loehr@gfe.com