Special semi-finished products
MANUFACTURED PRECISELY AND MADE TO MEASURE
Tantalum and niobium are processed into metal strips in special rolling mills – up to less than 0.1 millimeter thick! In between are a number of production steps and precise material tests. At the end of the process, these GfE special semi-finished products may find themselves in the form of a contact spring in a pacemaker, or functioning as measuring strips in an industrial precision scale.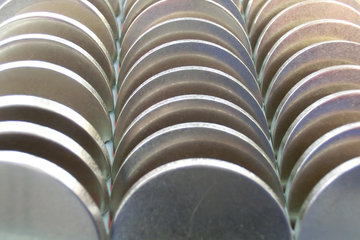 Precise and cut to size
In Brand-Erbisdorf near Freiberg, special semi-finished products are manufactured in the form of plates, sheets, and strips made from tantalum and niobium alloys, as well as nickel silver, nickel, and copper alloys. Metals like tantalum and niobium are highly corrosion-resistant and biocompatible; they are used in medical technology, chemical apparatus engineering, and water treatment, among other things.
Medical and measuring technology
Pacemakers receive their electricity in the human body through niobium contact springs, and keep hearts beating reliably for years. Tantalum serves as a shell or membrane in various chemical instruments for measuring and analysis that need to be able to make precise measurements. In energy and environmental technology, corrosion-resistant electrodes based on niobium are used to cleaning water without chemicals in the ballast water tanks on ships. Nickel silver – an alloy made from copper, nickel, and tin – makes silverware, watches, and jewelry look more upscale. In addition to customers in precision mechanics, industries such as furnace construction, chemical plant and apparatus engineering, and textile machinery construction use special semi-finished products from GfE.
Small but significant
GfE manufactures niche products for customers around the world. That includes specific and competent advice on materials technology to start. Special requirements or certain specifications – such as grain size, breaking/tensile strength, or hardness value – can also be deliberately implemented with GfE's constantly expanding portfolio. Short delivery times, good technical advice, and custom solutions are just as much a matter of course as security of supply and top product quality.
We can manufacture the exact product our customer needs for their purposes – in small quantities or by the ton.
Decades of experience
Customers profit from the wealth of experience of GfE's experts – like when a solution for non-malleable metals is needed. Their expertise is based on history: Fremat GmbH & Co. KG, a metal processing company established in 1996, was the manufacturing subsidiary of Forschungsinstitut für Nichteisenmetalle Freiberg GmbH (FNE), founded in 1949. In 2006, the company was incorporated into the GfE group and has operated under the name GfE Fremat GmbH since then; the production plant is now located in Brand-Erbisdorf. Regular investments in process technology and the modernization of the production systems to state-of-the-art guarantee long-lasting production security on site, as well as the continued high quality of the products.
Production according to the customer's wishes
GfE manufactures semi-finished products in forms required by the customer in question – as a plate, sheet, strip, or rod in a wide variety of sizes. GfE purchases their own raw materials around the world for this, such as in the form of ingots, thanks to years of experience in consistently high quality and equally high security of supply. In cases of specific alloy compositions that are hard to find, GfE can also melt and cast material in vacuum induction furnaces. But customers' own primary materials can be ordered and reprocessed as well.
Development of new alloys
Customers who need small quantities of a specific alloy work closely with our development department. This, for example, is how multi-phase special alloys for strain gauges with optimized properties have been designed together with a customer. Production and test processes, from casting the base material to shaping, to the final component, have all been designed with the customer. Since then, the special alloy has been used for strain gauges in industrial scales.
We are partners for firms who want to work with us on applied development for innovative products.