Training
that lives up to its name
Are you looking for a vocational training position? And not just any, but one with prospects for the future? Then you're in the right place, because at GfE, training is a TOP priority. That starts with the training pay and doesn't stop even with the recognition of your efforts. Does that sound good to you? Then read on.
"Dear trainees, we would like to make your beginning as interesting as possible," said the instructor for training and development at GfE, welcoming the "newbies". She also did her training at GfE. Like many before her, she was hired directly following her training.
First, get to know everyone and everything
And how does the training go? The first training day is a "getting-to-know-you" day with lots of new impressions.
You will be introduced to your new workplace and your new tasks. During this, the accident prevention regulations, for example, and all relevant rules, procedures, and processes at GfE will be specified and very precisely explained. Company parking, canteen, work hours, breaks, vacation, everything you want to know, you will learn pretty much on the first day.
In the course of the week, you will be introduced to all the people in the company who are important for you: among others, your trainer or foreman in production and the employees you will be working with.
We will discuss with you the procedures in the company and what jobs you should first take on as a trainee.
You can start your training at GfE in these fields!
Production and technology
Do you prefer to be hands on and want to know what it's like to operate and maintain our systems together in the team? You will learn how our products are manufactured in your training.
A responsible job: controlling and monitoring chemical processes and automated production systems. As a chemical technician, you help the mostly automated apparatuses and systems to function optimally and ensure the quality of the products. You control and maintain production systems and collect and log operational data. Basic products are prepared, samples taken, simple chemical and physical product analyses performed.
Requirements:
Good qualifying school certificate from lower secondary school, secondary school, or university entrance/vocational diploma;
Technical aptitude, strong interest in technology and scientific foundations, quick comprehension, the ability to focus, team player
Length of training:
3.5 years
Chemical laboratory assistant
As a chemical laboratory assistant you will investigate and experiment, carry out reactions and physico-chemical measurements and evaluate the results. Experiments are calculated, by-products are determined and tests are carried out.
Requirements:
Good qualifying school certificate from secondary school,; great scientific interest in the field chemistry and mathematics, responsible work, high level of commitment, teamwork and reliability
Length of training:
3.5 years
Specialist in metal technology
Milling, grinding, and lathing. With the help of computer-controlled milling machines, grinders, or lathes, called CNC machines, specialists in metal technology in the field of machining create components or assemblies for machines. For this, you set the machine so that the end product has the right form and size and monitor the control components during production. Once a component is complete, you check the quality of the end product.
Requirements:
Min. qualifying lower secondary school certificate, technical aptitude, technical understanding, and basic spatial understanding
Length of training:
2 years
Foundry mechanics smelt the casting metal and add alloy components. You learn the foundations of smelting technology while you process, run, and monitor the molten metal. Recognizing problems in the production run and taking suitable measures to eliminate them are as much a part of your job as collecting operating data and presenting the process control and its evaluation.
Requirements:
Good qualifying school certificate from lower secondary or secondary school
You are interested in mathematics and technology. You enjoy careful work and have an inclination for handling machinery, devices, and systems.
Length of training:
3.5 years
Machines make work easier - that makes you indispensable. As an industrial mechanic, you are an expert in machines. You build, monitor, and maintain individual components and whole devices. The care and reliability you show in doing so keeps production going.
Industrial mechanics play a leading role in the machine-based production process. In your training, you will learn how to set up, retool, and operate production systems. So that all machines operate independently and perfectly, you check them for malfunctions and eliminate problems. Before starting repairs, you deal with materials and replacement parts or make them yourself.
Requirements:
Good qualifying school certificate from lower secondary school, secondary school, or university entrance/vocational diploma;
Good knowledge of mathematics, physics, and technology. You like to work carefully and have good spatial sense.
Length of training:
3.5 years
Machine and plant operator
As a machine and plant operator, you are, as the name implies, primarily responsible for machines and plants. That means you equip, retool, and operate machinery – frequently several at once. For that, you also prepare operating procedures, check machine functions, and put machines into operation. And of course so that everything runs smoothly and the machine doesn't give up after the first run, you must also constantly monitor the (production) process.
Requirements:
Min. qualifying secondary school certificate, good basic understanding of mathematics, independence, great commitment, inclination for handling technical devices, machines, and systems
Length of training:
2 years
As a future mechatronics technician, you build systems that consist of both mechanical and electronic or information technology components. Building controls, wiring leads, machining metal, or combining electronic and mechanical components, such as pumps or valves is all part of your daily job as a mechatronics technician.
Requirements:
A good qualifying lower secondary or secondary school certificate. Interest in science, especially in the areas of mathematics and physics, technical aptitude & technical understanding
Length of training:
3.5 years
Chemical production specialist
Chemistry is part of everyday life. In your varied training, you will get to know the basics of the process and systems technology you will use in the creation of a variety of products. As a chemical production specialist, you operate and monitor systems for the manufacturing and processing of chemical materials according to work schedules. You fill chemicals into vats and containers and control temperature, pressure, amounts, and flow rates. You ensure a smooth process. Your monitoring of the production process ensures the quality of innovative products.
Requirements:
Min. qualifying secondary school certificate, independence, interest in technology
Length of training:
2 years
Metal process technologist
Metal process technologists use mills, thermoforming machines, presses, and forging lines to process metal into sheets, beams, plates, moldings, wire, or forgings. You set up the production systems, install rollers and other forming tools, heat induction and forging furnaces. If necessary, you trim the primary material, feed the manufacturing systems, monitor and control the forming processes. You test the dimensional tolerance, shape, and surface of your products. You then treat the products, finish the surfaces of workpieces, or cut sheets, steel bars, or pipes.
Requirements:
A good qualifying lower secondary or secondary school certificate. Interest in science, especially in the areas of mathematics and physics, technical aptitude and technical understanding
Length of training:
3.5 years
Commercial and IT
In a commercial training at GfE, you contribute to everything in our company running smoothly. You have a friendly demeanor, enjoy working with others, express yourself well, are committed and well organized.
IT specialist for system integration
You immerse yourself in the key areas of information technology and learn to properly plan, maintain, and administer complex IT systems and networks. Your tasks include, among other things, the elimination of system errors with professional expert and diagnostic tools, installation and migration of Microsoft systems, developing and presenting comprehensive system solutions, and supporting in-house users
Requirements:
Min. good qualifying lower secondary, secondary, or university entrance school certificate. Interest in technology and initial experience with hardware and software components, good knowledge of mathematics, physics, and English
Length of training:
3 years
Where can you find anything like this? Good terms
The collective agreement of the Bavarian chemical industry allows a good start for all trainees at GfE from their first day. We want you to feel comfortable with us and to develop from a trainee to a specialist with us. The standard and additional benefits for our employees differ by location.
30 days of vacation
We offer a company pension in addition to the statutory retirement plan
Attractive trainee pay according to the collective agreement
Additional benefits such as holiday and Christmas bonus
Daily lunch allowance for the company canteen (Location Nürnberg)
Good connections with public transportation
Sufficient free parking on company grounds
Individual training and career development
Close supervision by an experienced training team

Very good takeover opportunities
Flat hierarchies – short information and decision paths

Pleasant working atmosphere through a friendly cooperation
Regular employee events (Summer festival, sporting events, Christmas party)
STAYING IN COMMUNICATION
During your entire training, you will have the advice and assistance of a trainer. All trainees are integrated into the company's work processes and the current daily business in production or administration right from the start – that way, you can quickly take on responsibility as your training proceeds.
At GfE, training is a mainstay of the future of our company. With it, we can secure young talent early on, because the trainees of today are our employees of tomorrow.
Our expectations!
Every training demands special technical and personal strengths. However, there are a few basics that are required for every applicant. Along with a school certificate with good grades, your application should express that you enjoy learning, are creative and curious, and are able to work as carefully as you can independently. Does that sound just like you? Then apply with us!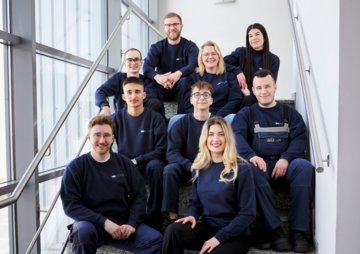 What makes you different?
Along with your grades, we are interested primarily in your personality. Following a successful written application, you will introduce yourself to us in a personal interview – and we to you. That way, we will get to know each other.
We look forward to meeting you!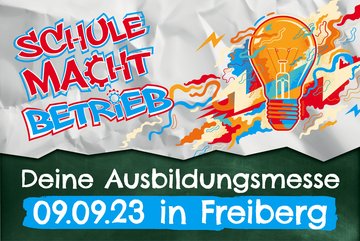 Visit us at the training fair "Schule macht Betrieb" in Freiberg.
On Saturday, September 09, 2023, you will have the opportunity to find out about our training positions at our booth.
We are looking forward to meeting you! Please make an appointment.
Quality in training is a top priority for us.
In order to make reading easier, we limit ourselves to masculine forms. Naturally, women and non-binary persons are equally welcome.
Brand-Erbisdorf
Antje Lippmann
Human Resources
Phone: +49 (0)37322 472 - 203 zukunft@gfe.com